Happy 2nd Anniversary, Rocket Fizz!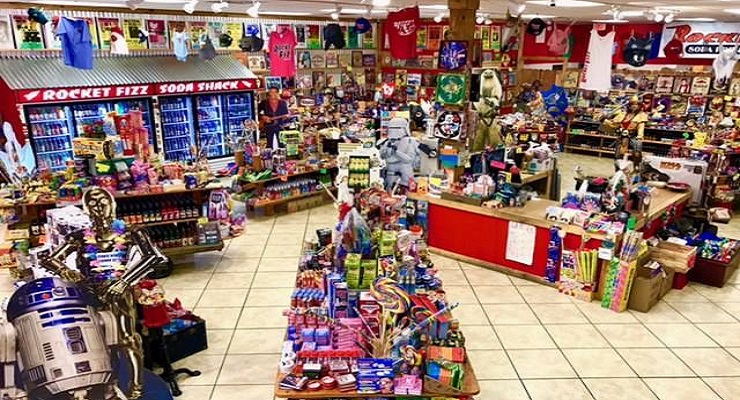 Wandering through Rocket Fizz is much like wandering through childhood memories.
Remember your favorite candy as a child? Can't seem to find it anywhere? Rocket Fizz will more than likely have it, along with thousands of other unique and nostalgic items.
Rocket Fizz made its grand entrance into the Lancaster community in July 2015 when Sandy Groves Smith decided to add one more sweet accomplishment to her already full plate!
With the largest local selection of collectibly delicious sodas and nastalgic candy found in one store, this extraordinary trip through time is sure to have something you will love!
There are thousands of bottled soda pops and candies from all over America, including some from other galaxies. The gigantic selection will launch you back in time to when you were a kid—even if you are over a hundred light years old. And if you are a kid, don't plan on growing up when you are inside of a Rocket Fizz store. Rocket Fizz is a lot of fun and nostalgic. There are also hundreds of retro and gag gifts, and concert posters and movie posters, and tin signs too. The inventory is always expanding, just like Sandys long list of accomplishments.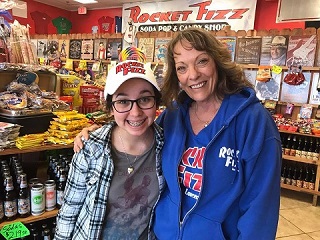 Sandy Smith, owner/operator of Lancaster's Rocket Fizz, is nothing short of extraordinary. Sandy Groves Smith has been a resident of the Antelope Valley since 1978. Her father was once the mayor of Lancaster and the apple did not fall far from the tree. She has followed in his footsteps serving the community.
For 16 years, Sandy worked to raise awareness as the Regional Director of Operations for the American Cancer Society. She is also the former CEO of the Lancaster Chamber of Commerce, where she created the local chapter of The Young Entrepreneurs Academy (YEA!). YEA! is a ground-breaking and exciting program that transforms local middle and high school students into confident entrepreneurs. Through the year-long program, students in grades 6-12 generate business ideas, conduct market research, write business plans, pitch to a panel of investors, and launch their very own companies.
When Sandy talks about YEA!, you can truly hear the passion in her voice. "Of all the things I've done in the community, I feel that YEA! will be my legacy. To see the impact on the young people of our community is tremendous."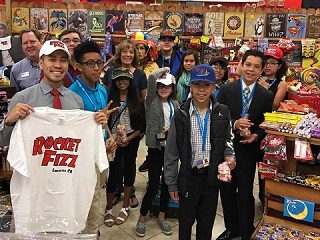 Whether she is raising awareness and funds for local causes, teaching youth about business, or slinging sweets, our valley is lucky to have such a great woman making a difference in our beloved valley.
Apparently, we aren't the only ones who think so! In March 2017, the Zonta Club of the Antelope Valley awarded Sandy with the ATHENA Award, a prestigious award presented to a woman or man who is honored for attaining professional excellence, community service, and for actively assisting women in their achievement of professional excellence and leadership skills.
Sandy now serves as a Planning Commissioner for the City of Lancaster and serves on the AV Fair Board, all while maintaining a successful business that the people of the Antelope Valley have come to love.
So, what makes Rocket Fizz such a success? An undeniably wide variety of delicious candies? Hundreds of uniquely flavored sodas? Nostalgic and clever knick-knacks and gag gifts? Assortments of fun one-of-a-kind hand-crafted gift baskets?
While all of these attribute to the fun and exciting experience of visiting Rocket Fizz, the true success comes from its friendly customer service and the amazing customers who visit. Sandy says, "My favorite thing about owning this shop is the customers – lots of nostalgic stories and lots of smiles! It's such a happy atmosphere!"
So, whether you're looking for a new favorite candy or soda, or an old favorite candy or soda, Rocket Fizz is sure to give you that nostalgic "kid in a candy store" experience!
Thank you, Sandy and Rocket Fizz, for all you do to help make our valley a little sweeter!
Congratulations and continued success from your friends at
AntelopeValley.com
!
Come celebrate with us on
Wednesday July 26th
for the 2-Year Anniversary! From 2pm-7pm, we will be serving free cake, soda samples, giving out free Tootsie pops, and conducting random giveaways throughout the day!
---