Monthly Stamp Class by Sarah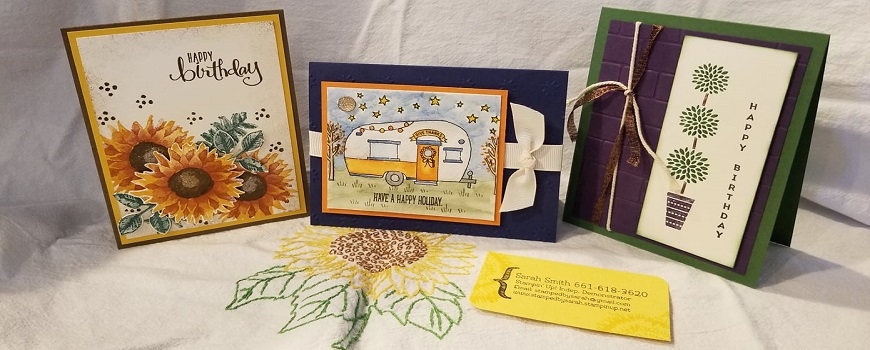 My monthly card class is held on the 3rd Monday of every month. One session is at 10am and another session class at 6pm. At the class, you will be creating 3 beautiful, handmade cards and stamped envelopes. Each month has a theme to help with your planning:
Themes:
January - Valentine's Day
February - Spring
March - Easter
April - Mother's Day/Baby Girl
May - Father's Day/Baby Boy
June - New Catalog showcase
July - Summer
August - Birthday
September - Autumn/Halloween
October - Thanksgiving/Autumn
November - Christmas
December - Winter/New Year
The cost of the classes is $12 or it could be a free class if you place a catalog order (before tax and shipping) of $25.
Please bring your own adhesive, scissors, bone folder and anything else you cannot leave home without. I will provide all other materials needed.
I will provide light snacks and refreshments.
Please RSVP by the Friday before the event so I have enough supplies ready! WHEN YOU RSVP, PLEASE INDICATE WHICH CLASS YOU WOULD LIKE TO ATTEND.

RSVP HERE
I hope to see you here!
Admission Details:
$12 or it could be a free class if you place a catalog order (before tax and shipping) of $25