Western Hotel Museum - Open Hours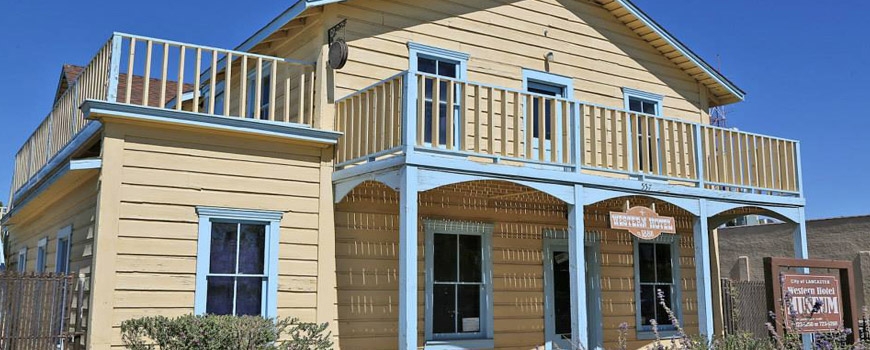 The Western Hotel Museum is open from 11AM - 4PM
on the second and fourth Friday and Saturday each month.
The Western Hotel Museum plays host to permanent displays of historical artifacts from the Museum of Art and History's permanent collection. Most of these objects, ranging from Native American stone tools to old mining equipment, to photographs of well-known Lancaster residents have been donated by members of the public, constituting a preserved record of the history of the area. While specific rooms in the Western Hotel Museum are closed for renovation, exhibitions on view will include: Antelope Valley Mining, the California Missions, Fashions from the Past and Antelope Valley Native Americans. Currently on view are many early Antelope Valley photographs and historical items, as well as mock hotel rooms and an outdoor garden.
Built around 1888, the Western Hotel Museum is downtown Lancaster's oldest surviving structure. As a hotel, it has gone through several names, including the Antelope Valley Hotel, the Gillwyn Hotel, and lastly, the Western Hotel (c. 1895). Its most famous owners were George and Myrtie Webber. Myrtie died in 1978 at the age of 110.
The Western Hotel Museum is one of the most visible links Lancaster has to its heritage. At the turn of the century, the two-story hotel was a vital part of local culture, accommodating everyone from muleskinners to British lords. After years of different owners and purposes, the hotel fell into a state of disrepair during the 1970s and was condemned. Lancaster residents, rallied to save the once-grand hotel. This resulted in the formation of the Western Hotel Historical Society. Restoration was completed in 1988, and the hotel/museum now houses photographs and artifacts that depict the history of the people who built, worked and lived in the Western Hotel. You can almost feel the mood of the 1890s as you walk through the long, narrow hallways and wood-paneled rooms.
In addition, the Western Hotel Museum is listed with the California Office of Historic Preservation (OHP) as California Historic Landmark (CHL), #658. The Western Hotel owes much of its listing to, as noted by the OHP, "Between 1905 and 1913, construction crews of the Los Angeles-Owens River Aqueduct were housed here, and it became a center of commercial and social activity in the early life of the community."
Admission Details:
557 W LANCASTER BLVD, LANCASTER, CA 93534