AV Easter Eggstravaganza!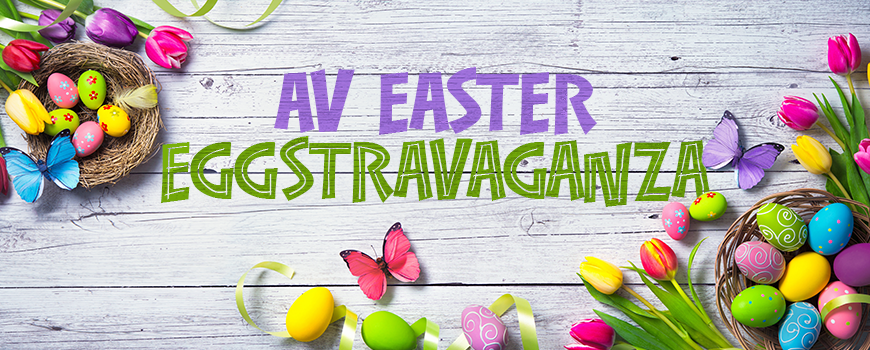 Easter is approaching fast!
AntelopeValley.com
has put together a list of the A.V's biggest Easter events for you and your family to enjoy together! Whatever it is you celebrate, we hope it's a weekend to remember! Happy hunting, AV!
Easter Bunny's Arrival Celebration
Saturday, March 30, 10am-12pm
Antelope Valley Mall
Come celebrate in the food court with the Antelope Valley Mall! There will be a DJ, Balloons, Face Painting and Crafts & goodie bags for the first 200 children.
Easter Bunny - Visits and Photos
March 30th - April 20th
Antelope Valley Mall
Monday–Saturday - 11am -7pm
Carrot Breaks – 1p-1:15p & 5p-5:15p
Sunday - 11am-6pm
Carrot Break – 2p-2:15p
The Easter Bunny - Bunny Cares - A Sensory Friendly Event
Sunday, April 7th, 2019 8:30AM – 10:30AM
Antelope Valley Mall
People within every spectrum of special needs and their families are invited to a private photo session, to experience the time-honored tradition of a visit with the Easter Bunny during dedicated hours. Please reserve your complimentary ticket on Eventbrite - ONE TICKET per group/family, please.
Families are encouraged to arrive at any time during their scheduled 15-minute time period. Upon arrival, one of the bunny's helpers will provide you with a number so that your family does not have to stand in line until they are ready for you.
Visits with the Easter Bunny are free. Photo packages that capture holiday memories will be available for purchase at the event.
Children's Springfest & Egg Hunt
Saturday, April 13th, 2019 9AM – 1PM
Palmdale Amphitheater
FREE Egg Hunt, Crafts & Kids Activities
Kids will enjoy the egg hunt as they search for eggs in small groups to redeem for a prize. There are no set times based on ages, but they do recommend that you arrive one hour before the end of the event to participate in the egg hunt.
$2 Kids Fun Zone wristband incudes horse-drawn carriage rides*, petting zoo, super slide, toddler obstacle course, dual hoop zone, field goal challenge, home run derby, penalty goal challenge and rock wall climbing.
*Those 13 years and older who wish to take horse-drawn carriage rides can obtain a separate wristband for this attraction only.
Open to kids ages 2-12. Ages 5 and under may be accompanied by one adult inside the egg hunt. Pets are not permitted. Food vendors will be onsite for your convenience. Dress code enforced, no clothing with profanity or obscene graphics allowed. Shoes and shirt required.
Bunny's Annual Egg Hunt Eggstravaganza
Saturday, April 20th, 2019
Sgt. Steve Owen Memorial Park
Bring the family and enjoy the fun! A variety of children's entertainment including bounce houses and a petting zoo will be onsite to provide amusement between hunts.
In the event of inclement weather the Egg Hunt will be held in the Stanley Kleiner Activity Center at the front of the park.
---