Willow Springs International Motorsports Park
Phone: (661) 256-6666
Address: 3500 75th St W, Rosamond, CA 93560
Website: http://www.willowspringsraceway.com
About: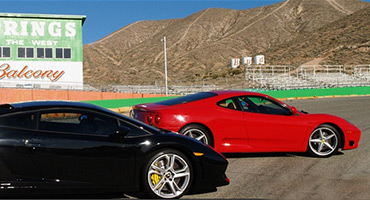 Willow Springs International Motor sports Park is a 600-acre complex of eight racetracks embracing nearly every conceivable motor sports discipline. The park is located about an hour north of Los Angeles, California near Lancaster.

The original track at the facility, Willow Springs International Raceway, celebrates its 55th birthday this year, and is steeped in historical significance. Construction of the track began in 1952, with the inaugural event held on November 23, 1953. The fact that it has been running continuously since then has caused the state of California to recognize Willow Springs International Raceway as an Official California Point of Historical Interest. This world-famous track hosted the first two NASCAR events west of the Mississippi, the first F.I.M. 500 Grand Prix motorcycle race in America, the first AMA events, the first 24-hour motorcycle endurance race, the first kart road racing in America, and the first California Sports Car Club racing on a purpose-built road course. Over the years, track records have been set and broken many times by internationally famous drivers and riders.

Willow Springs International Raceway is a super-fast 2.5-mile / nine-turn road racing circuit, patterned after the great courses and road racing traditions of Europe, and is unchanged from its original 1953 configuration. With its substantial elevation changes and high average speeds, Willow Springs is one of the fastest and most challenging tracks in the country. Also known as the Fastest Road in the West, this track is one of the safest road courses in the world, despite its high velocities. Cornering speeds on this track range from about 70 mph to over 170 mph, with straightaway speeds nearing 200 mph possible with fastest cars and motorcycles.

With its long and short straight-aways, tight corners, and long sweeping turns, there aren't many road courses in the world with spectator viewing like Willow Springs. Guests can see almost the entire racecourse from just about anywhere, including the many trackside camping areas. Spectator amenities include two full-service diners with full bars, a well-stocked gift shop, plenty of spectators seating and parking modern rest rooms, and outstanding viewing areas. Large viewing areas are available for RV parking and camping, including several full hookups for trailers and motor homes. Racer amenities include several enclosed garages available for use by competitors and testers, with racing fuel and tire services available at the track daily.

Willow Springs International Motorsports Park also includes the following facilities: Willow Springs Raceway (2.5 mile road course); The Streets of Willow Springs (a 1.8-mile road course); Walt James Stadium (3/8 mi Clay Oval and Paved Oval); Willow Springs Speedway (a lighted 1/4-mile paved oval), Willow Springs Kart Track (a .625-mile, 9-turn paved sprint track); The Balcony (a 1/4-mile paved autocross and drifting track); Horse Thief Mile (1-mile canyon road course with many elevation changes and tight corners); and approximately 160 acres of off-road, mountainous terrain.

Efforts by fans have resulted in the State of California declaring Willow Springs International Raceway as a California Point of Historical Interest in 1996.
---