Robertson's Palmdale Honda Welcomes Back Ernie Faybush!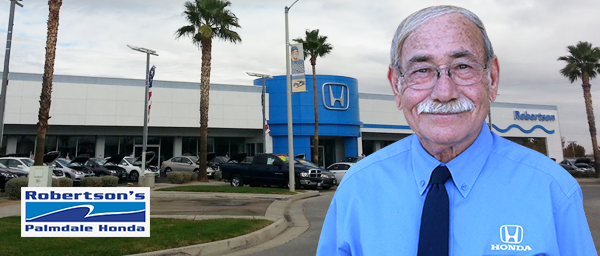 A beloved part of the RPH family and Antelope Valley resident, Ernie Faybush has been selling Hondas since 1992, when Robertson's Palmdale Honda first opened shop. From the very beginning, he has shown dedication and commitment to helping those around him.
Whether he's answering questions, taking a customer on a tour of the lot, or taking a family for a test drive, Ernie is always smiling and is eager to help.
In his 26 years in the industry, Ernie has helped over 6000 families get behind the wheel of the car of their dreams.
We asked Ernie what his absolute favorite part of his job is, and, with no hesitation, he replied, "My customers. Knowing that I can help make a difference in someone's life makes my job worth every minute. It's not a job at that point. It's a passion. I just want to help people."
Robertson's is so fortunate to have Ernie back on their team. He was sorely missed.
"I love being a part of the Robertson's family. These are some of the greatest men and women I've had the pleasure of knowing and working with. I love the teamwork and I love that we treat our customers fairly and with integrity. We also do our part by being involved in the community by supporting the PTA's. That's important to us."
His peers look up to him. Over 6000 cars in 26 years is not an easy task. So, what's his secret?
"It's no secret. I just love people. I love to help, and I like knowing that I'm helping the people in my town get a car that could literally change their lives. Maybe it's a car that helps them get to work, or pick up the kids, or run daily errands. But it's a big investment, either way. I enjoy being someone they can trust for a big decision like this."
If you're looking for the right car for your family, call or stop in and ask for Ernie at Robertson's Palmdale Honda!
www.robertsonshonda.com
---