The Robot Show at Lancaster MOAH
Exhibit Open:
AUGUST 4 - SEPTEMBER 26
---
The Robot Show
is comprised of eight exhibitions exploring the place robots, and other forms of artificial intelligence, have in a contemporary social landscape – from popular culture to nature and spirituality. Featured in the Main Gallery at MOAH is a retrospective of Emmy-nominated artist and animator, Dave Pressler. The Robot Show also showcases the solo exhibitions of Jeff Soto, Patrick McGilligan, Robert Nelson and Karen Hochman Brown, with site specific installations by artists Cristopher Cichocki, Alexander Kritselis, and Chenhung Chen.

​Dave Pressler's 20-year retrospective, Idea to Object, is a narrative of his career, which focuses on how he made his ideas a reality. Pressler's robots are fixtures in popular culture and he is best known for his Emmy-nominated Nickelodeon series, Robot and Monster. "Pressler's work appeals to audiences of all ages," says Andi Campognone, Curator at MOAH. "His work is a great example of the combination of strong contemporary concepts and expert craft, and we are so excited to exhibit his work for both the Lancaster and greater Los Angeles communities."

​Jeff Soto, in the East Gallery, is a pop-surrealist who also features robots prominently in his bold paintings and murals, which are meant to evoke nostalgia and the natural environment. In the South Gallery, Cristopher Cichocki furthers this connection between the artificial and the natural with his newest body of work, Divisions of Land and Sea, which combines audiovisual performance and black light painting into an immersive environment. Karen Hochman Brown's digital photographic compositions will be highlighted in the North Gallery joining Robert Nelson's robot paintings in the Wells Fargo Gallery along with Patrick McGilligan's work in the Museum's lobby and atrium. Alexander Kritselis will feature one of his multimedia installations in windows of the Museum's Hernando and Fran Marroquin Family Classroom. Rounding out this exhibition is Chenhung Chen, a Los Angeles-based artist, who will be installing her technology-based towers in the Vault Gallery.
---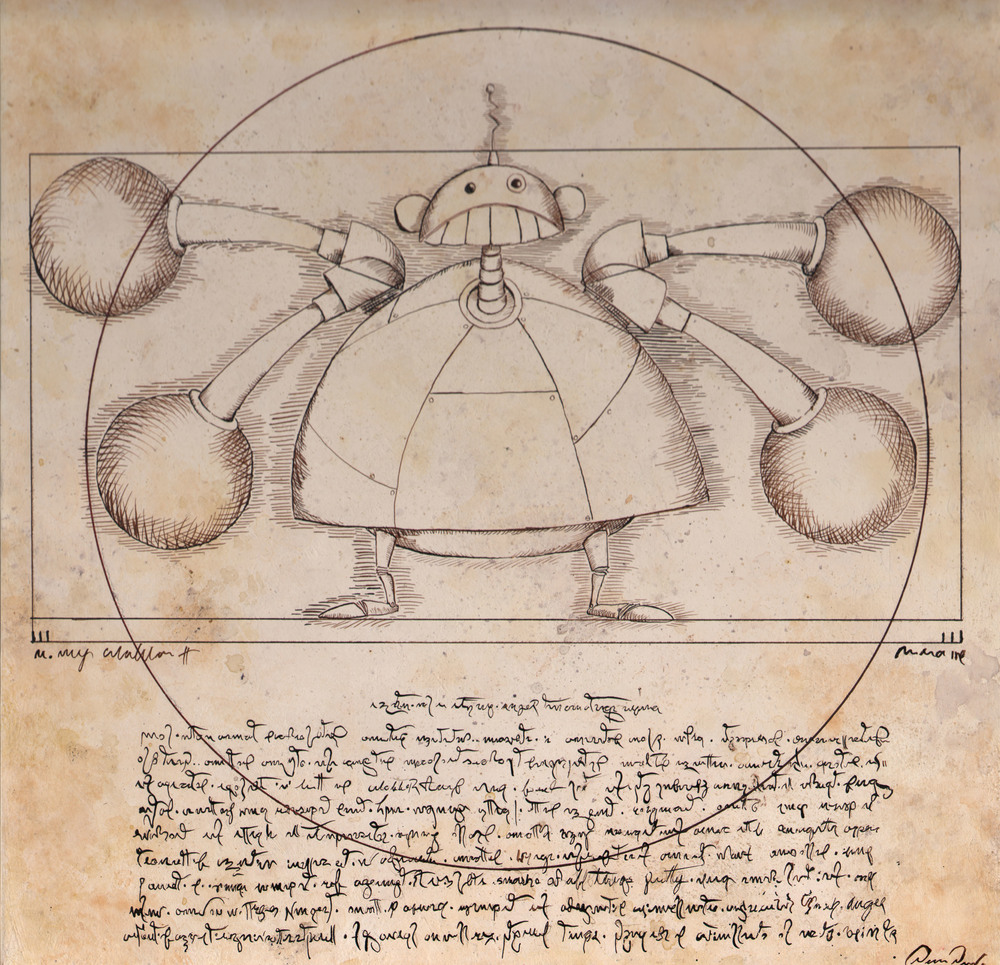 Dave Pressler: Idea to Object
​Dave Pressler is a Chicago born, Los Angeles based artist and character designer who has used sculpture and illustration to fuse together his passions for fine art and pop entertainment. He is a self-described "blue-collar artist," meaning he subscribes to the notion that there is no such thing as high or low art because all art requires skill, technique and imagination regardless of medium or intent. This exhibition is a survey of Pressler's 20 year career, focusing on whimsical portraits of robots and fantasy creatures.

Dave Pressler's Idea and Object exhibition gives the public the opportunity to view the thought process in character designing, and the transformation from idea to object. This installation includes work made over two decades, as well as themes of demystifying the art process, and demonstrating through learning technique and hard work that anyone who wants to can pursue art. Pressler has collaborated with many notable artists including Mark Ryden, Camille Rose Garcia and Ron English. Pressler has worked from the smallest scale to sculpting large scale robots both for exhibition and for fun. He recently created a custom printed robot in partnership with Pretty In Plastic. This robot is hand painted and a limited edition, the Shut Up And Draw! robot will come with a custom pencil and stand 8 inches tall. In addition to sculpting, character development and animation Pressler is also a celebrated illustrator and recently released the Scholastic book Back to School with Big Foot.

​Dave Pressler is an Emmy-nominated television producer, character designer, animator, illustrator, sculptor and painter. Over his career he has designed characters and IPs for a variety of children's entertainment companies and co-created Nickelodeon's Robot and Monster and the stop-motion animated series How to Do Everything with Garrick and Marvin for DreamWorksTV. Concurrently, his designer toys and artwork have been sold in galleries all over the world. Dave Pressler currently resides in Los Angeles and is committed to creating at least one robot a day.

---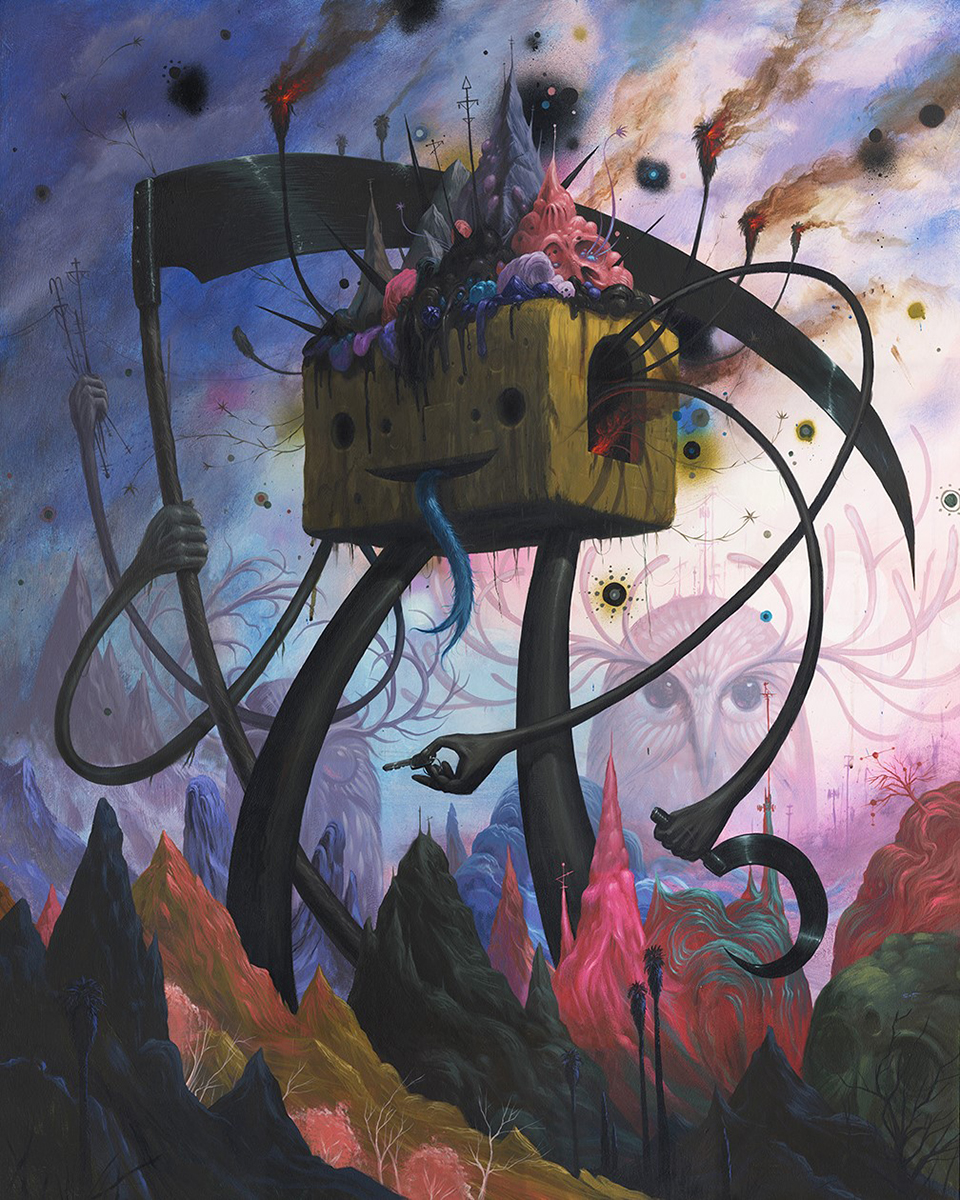 Jeff Soto: Futuregods
​In his formative years, Jeff Soto discovered traditional painting and illegal street graffiti at the same time. This simultaneous exploration of both worlds conceived his unique style and continues to inform his work to this day. His distinct color palette, subject matter and technique bridges the gap between pop surrealism and street art, inspired by youthful nostalgia, nature and popular culture.

Soto depicts friendly creatures and personifications of earth's forces that thrive in a dystopian environment plagued by the complexities of modern living. The robot-like creatures wear friendly smiles that may mask their real intentions. They are super complex beings, just as we are; some are good and some are evil, but most are somewhere in between. Soto's otherworldly creatures roam the surreal landscape and are surrounded by overgrown greenery, deteriorating technology and overall societal decay. Plants and wildlife are taking over technology and in many cases merging together. However, Soto's use of vibrant colors and organic shapes evoke a sense of hope and effort to revitalize, communicating themes of family, nature, life and death.

In addition to painting and commercial illustration, Jeff Soto has been painting murals internationally including New York, Los Angeles, Tokyo, Miami, London and Paris. Soto shows with Jonathan Levine Gallery in New York City. He is represented by B&A Reps for illustration work. He will be one of the featured POW!WOW! Antelope Valley artists in Lancaster this October. Jeff Soto received an Associate's degree from Riverside City College, a Bachelor of Fine Arts degree from Art Center College of Design in Pasadena and currently resides in Riverside, California.
---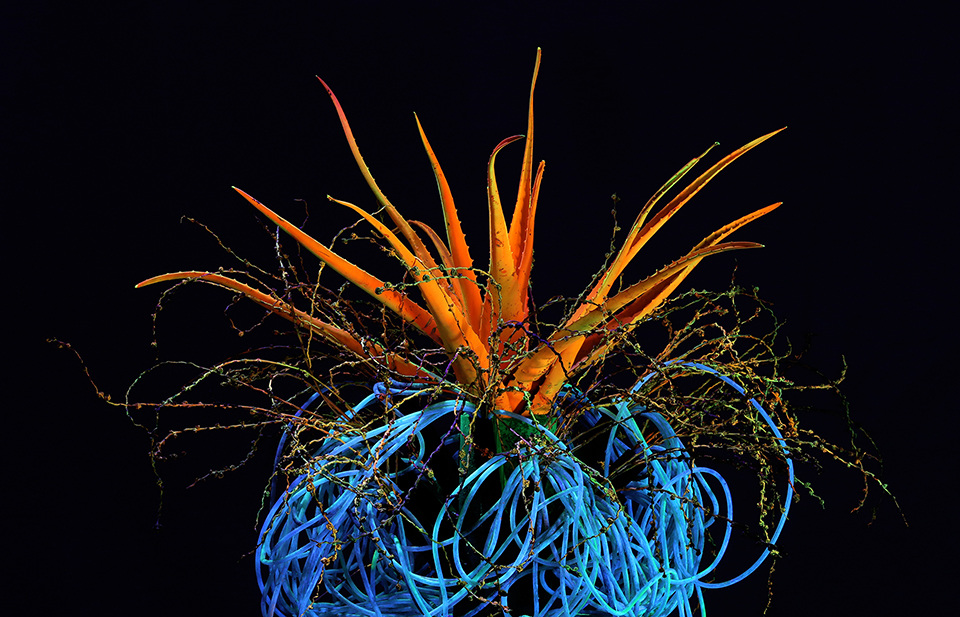 Cristopher Cichocki: Divisions of Land and Sea
​Cristopher Cichocki encapsulates the cycle of decay and renewal through an examination between humankind, the natural world and industrial production. Expanding upon the historical trajectory of Land Art, Cichocki underlines the increasingly toxic global environment confronting our planet in the new millennium. Situated on the fringe of art and natural science, the artist's environmental interventions reflect on the timeline spanning from prehistoric oceans to present-day transmutations. For decades, Cichocki's work has been immersed in the desert of southern California, responding to the dynamic ecology and water issues of the region through interconnected works of painting, sculpture, video, photography, performance, sound, installation and architectural intervention.

​The contrasting application of fluorescent color in Cichocki's palette stems from his earlier explorations of street markings used for construction and infrastructural development. In the midst of desert landscapes once submerged underwater, these fluorescent applications become further amplified as suggestions of deep sea bioluminescence when exposed under the ultraviolet radiation of black light. Divisions of Land and Sea merges both as excavations and restorations distilled from elements Cichocki regards as surviving seeds from an ancient ocean.

​Cichocki received his Bachelor of Fine Arts degree from the School of Art, CalArts, Valencia, California. His work has been featured in numerous exhibitions around the world in such institutions as the Museum of Image and Sound, São Paulo; Bienalle Urbana, Venice; Künstlerhaus Bethanien, Berlin; Casa França-Brasil, Rio de Janerio; Museum of Moving Image, New York; Portland Museum of Contemporary Art, Portland, Oregon; Palm Springs Art Museum, Palm Springs, California; Artere-A, Guadalajara; Museum of Photographic Arts, San Diego, California; MM Center Cinema, Zagreb, Croatia; and The Paseo Project, Taos, New Mexico. Cichocki works and resides in the Coachella Valley in California.
---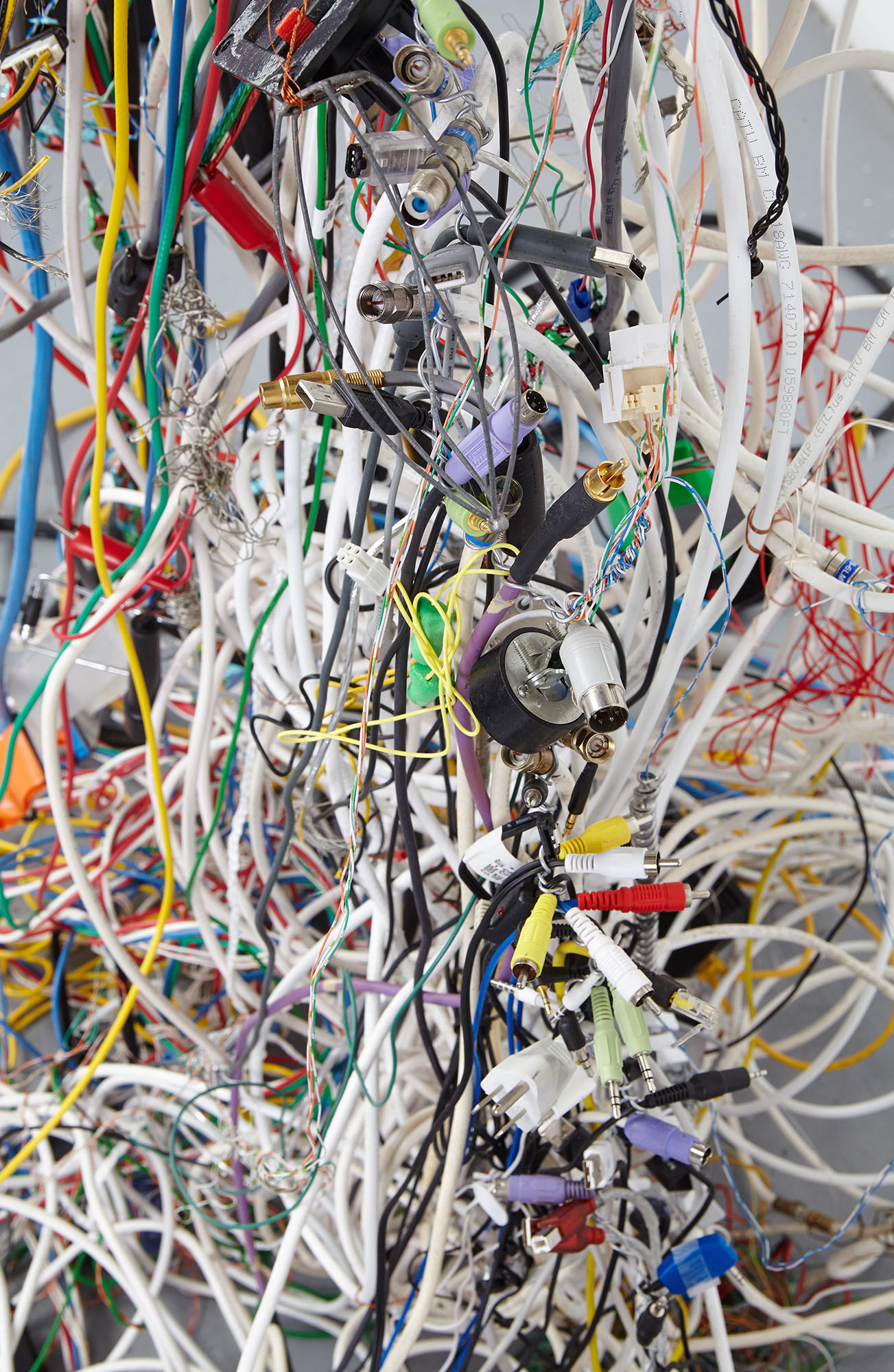 Chenhung Chen: I Ching in America 2.0
​In her work, Chenhung Chen is completely involved with line, having first recognized its power in Chinese calligraphy and painting, and later American Abstract Expressionism. Through her line focus, she is able to express feelings of delicacy, power, buoyancy, strength and constant motion. The linear qualities inherent in nature also inform her assemblage process and creative vision. Her work refers to dichotomy: concord and dissonance, stillness and chaos, the beautiful and the grotesque, the subtle and the powerful.

From her urban recluse experience, through mixed media works, Chen strives to express her perception of the inner existence: its simplicity and its profundity. Included in her freestanding 3D work are recycled materials, or the detritus of technology, such as copper wire, electrical wire and an array of electronic and computer components. The fact that this material's original function was to harness electrical power and transform its potential, bending it to the will of man, is fascinating to Chen. In her 2D work, she experiments with material from graphite to ink, oil to acrylic, paper to canvas, as well as daily use objects with linear qualities.

​Chen graduated from the Chinese Cultural University and received her MFA at the School of Visual Arts in New York City. She has traveled the world spending time in India, Malaysia, Australia, Thailand, North Eastern China as well as Beijing, and Rome, as a volunteer for the Prem Rawat Foundation working for global peace. Her artwork has been exhibited across the United States and internationally including locations throughout the Los Angeles and San Diego area, New York, Utah, and Taiwan. Chenhung Chen was born in Beigang, Taiwan, but now currently lives and works in Los Angeles.
---

Alex Kritselis: Predator/Prey
​Alex Kritselis is a multidisciplinary artist who grew up in Athens, Greece. Over the past 10 years, along with his paintings and sculptures, he has created numerous private and public site-specific installations, video presentations, and mixed media works, often collaborating with his wife, cinematographer Joey Forsyte. Kritselis moved to the US in the mid seventies to be part of the discourse surrounding contemporary issues in the visual arts. His work involves the examination of ancient myths, their relevance to traditional linear storytelling, influence on contemporary mores and present-day discourse on contemporary mythology and its links to the past.

​Kritselis is greatly influenced by Greece. He integrates classical rendering techniques with digital and other contemporary modalities. His art reflects on the individual and collective memory, as well as the friction of values past, present and future in our pursuit of self-determination and self-knowledge. The art he makes resemble fragmented pieces of memories and personal and collective histories. Traditional narrative and modern communication are woven together and "pixelated" into individual panels of wood, paper and metal. Painted, printed or engraved, they are in and of themselves complete works of art - free-floating thoughts, symbols, and impressions. When assembled, they embody the fragmentation of time and memory in history and mythology.

​Alex Kritselis received his MFA in Sculpture and Painting from Hornsey College of Art in London, England. With a scholarship from the Greek Academy of Arts and Sciences, he continued with postgraduate studies in sculpture at the Academia Della Beli Arti in Florence, Italy. He has taught at institutions in California and Texas, including Otis College of Art and Design, Pomona College, Claremont Graduate University, Texas University and Pasadena City College where he served as the Dean of the Visual Arts and Media Studies Division from 2002 to 2012. Kritselis serves on the Board of Armory Center for the Arts and has exhibited nationally and internationally in more than 25 solo and 50 invitational exhibits.
---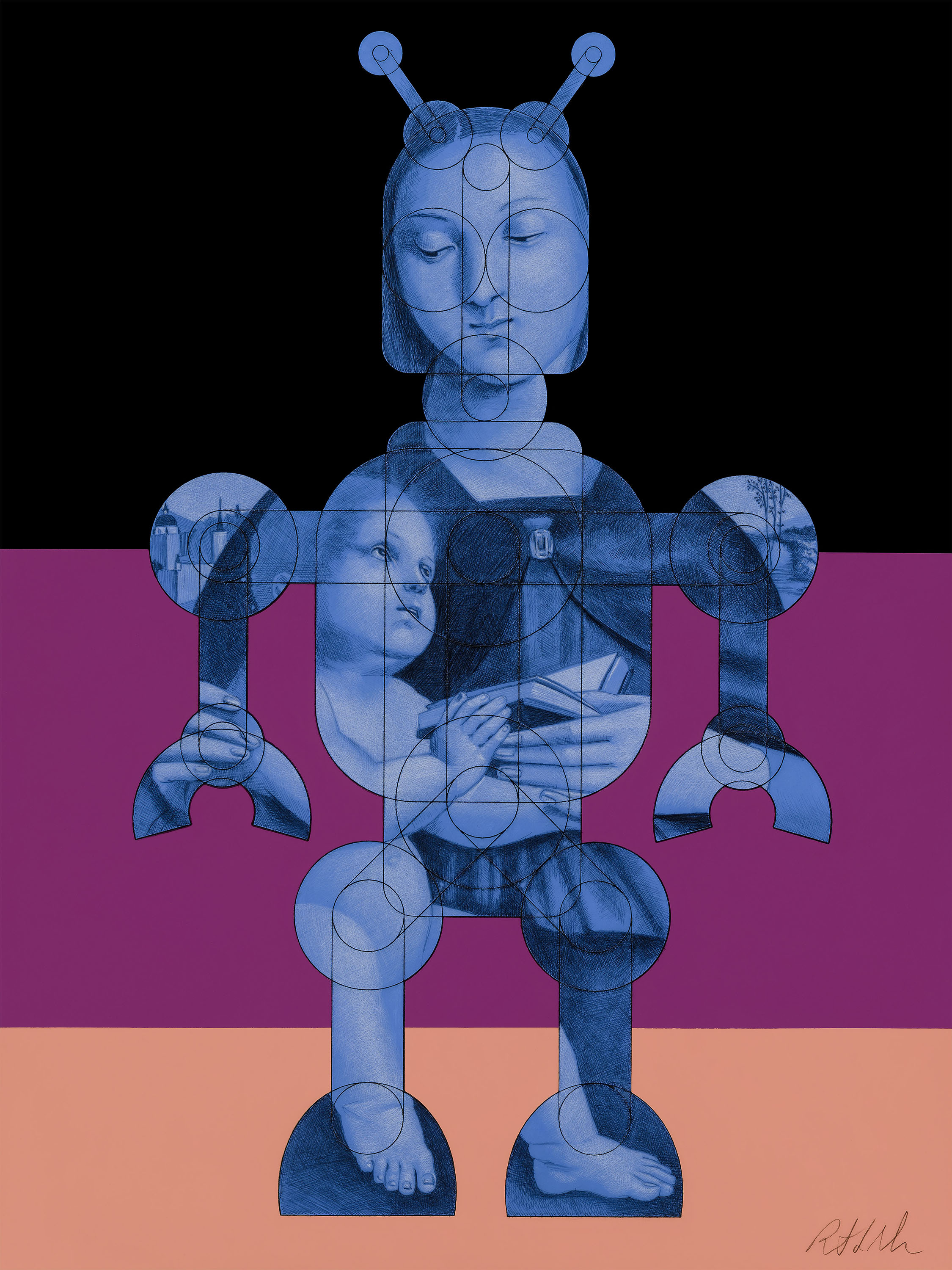 Robert Nelson: Awakening
​As he notes in his artist statement, "Some develop a world view through acquisition of unbiased knowledge, but the world view of many is preordained by culture, or manipulated by institutions. The world today is striking in its defined sides. How can there be such distinct good and bad in the world while most, in their heart, are on the side of good? I'm interested in contrast; innocence/corruption, the infinite/the finite, past/future, good/evil. It's fascinating how meanings can change depending on point of view. I strive for images that are defined differently by each observer. An image where their experiences, prejudices and beliefs all combine into the final experience of the work."

​Robert Nelson's work makes for a strange but intriguing marriage as he combines 16th century Italian Renaissance with modern imagery and concepts of our contemporary, technologically inclined world. He has us imagining Botticelli-type women and raygun-carrying space cadets and robots. What holds his interest these days is technology and also the compression of time. Time isn't really that important when you look at the long range scope of things. That's what I'm doing sometimes, just mixing all the time frames up. In a million years it won't matter anyway. We see a bit of Nelson's fascination with crunched time and present-plus-future technology. The impression appears to be that the human world is possibly being submerged by one involving computers or robots or other forms of evolved intelligence.
---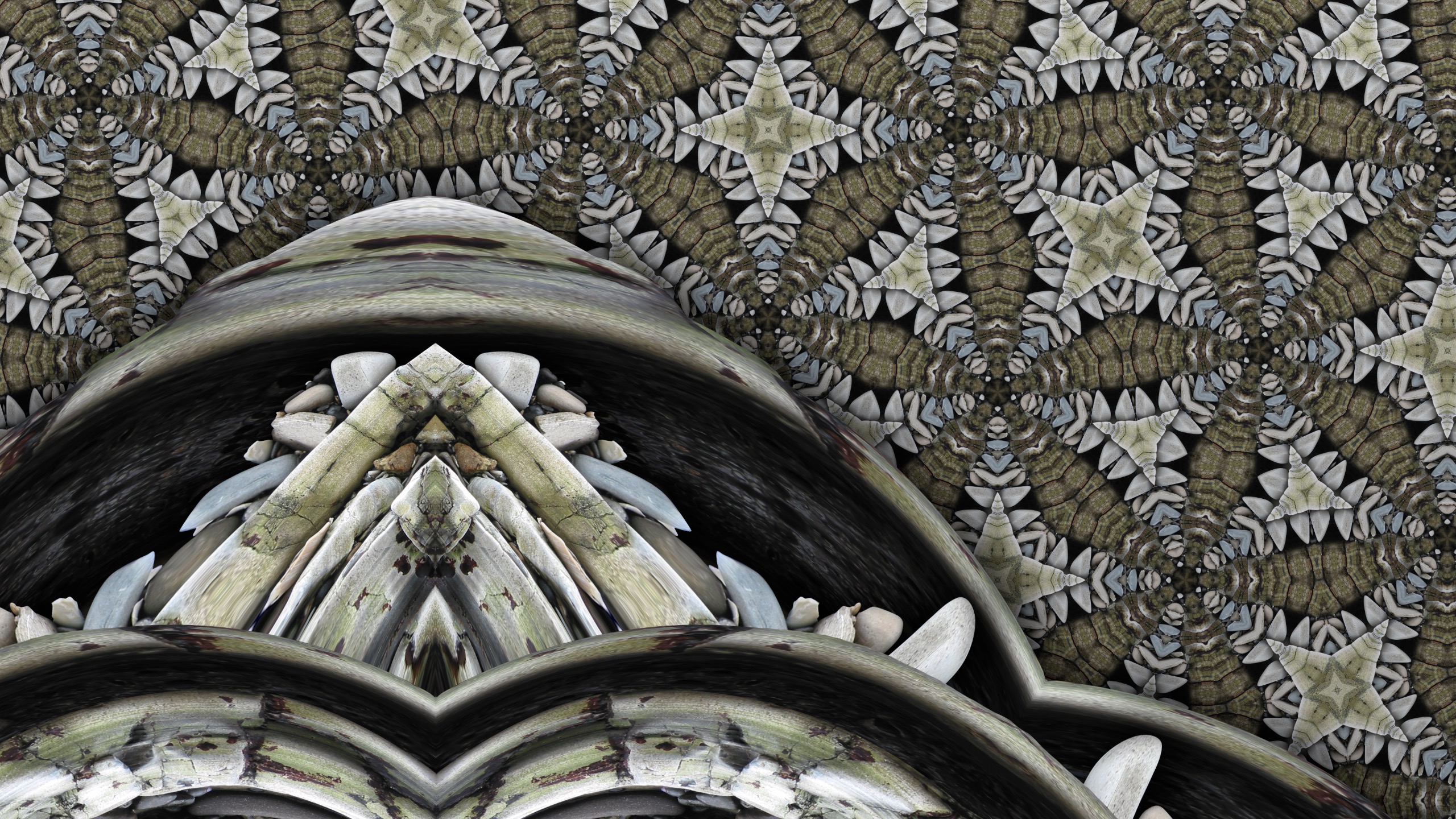 Karen Hochman Brown: Elementals
Karen Hochman Brown's fascination with tessellations began as a young girl looking through her own handmade kaleidoscopes. Juxtaposing photography, digital processes and print with natural imagery, Hochman Brown continues this ritual exploration by creating her mandala-like images, which examining the relationship between technological and natural environments.Hochman Brown turns and spins her brightly illuminated, photographic reflections creating a composition that is unbound by the limitation of the three-way reflection or a flat mirror techniques of tradition kaleidoscopes. This process allows her artwork to play in the realm of infinite imagery, as she alters layer after layer to create a single, new composition from multiple, disparate reflections.

Hochman Brown's exploration of the natural and artificial are inspired by the distinct, immediate marriage of mathematical precision and aesthetic beauty. For a kaleidoscope to work best, the user must find a source of light. Hochman Brown uses light to transform broken bits of colored glass into symmetrical rays. She meticulously alters light and shadow to create an illusion of depth. In some works, identical triangles recede and create vibrant, fragile patterns and dots are added for emphasis and direction. Working from her photographs, she finds and spins flecks of light, nudging and shifting them, until the viewer is lost in an endless dance of color and light and shape.

Hochman Brown received a Bachelors of Art degree in Art from Pitzer College in Claremont, California. She continued to study math and did post-graduate work at California College of Arts and Crafts, creating a course titled Construction Geometry Via Art. She has spent time teaching this curriculum at the Arts Magnet High School in Oakland, CA and in Altadena at the Waldorf School. She has studied graphic design at UCLA and Art Center College of Design.
---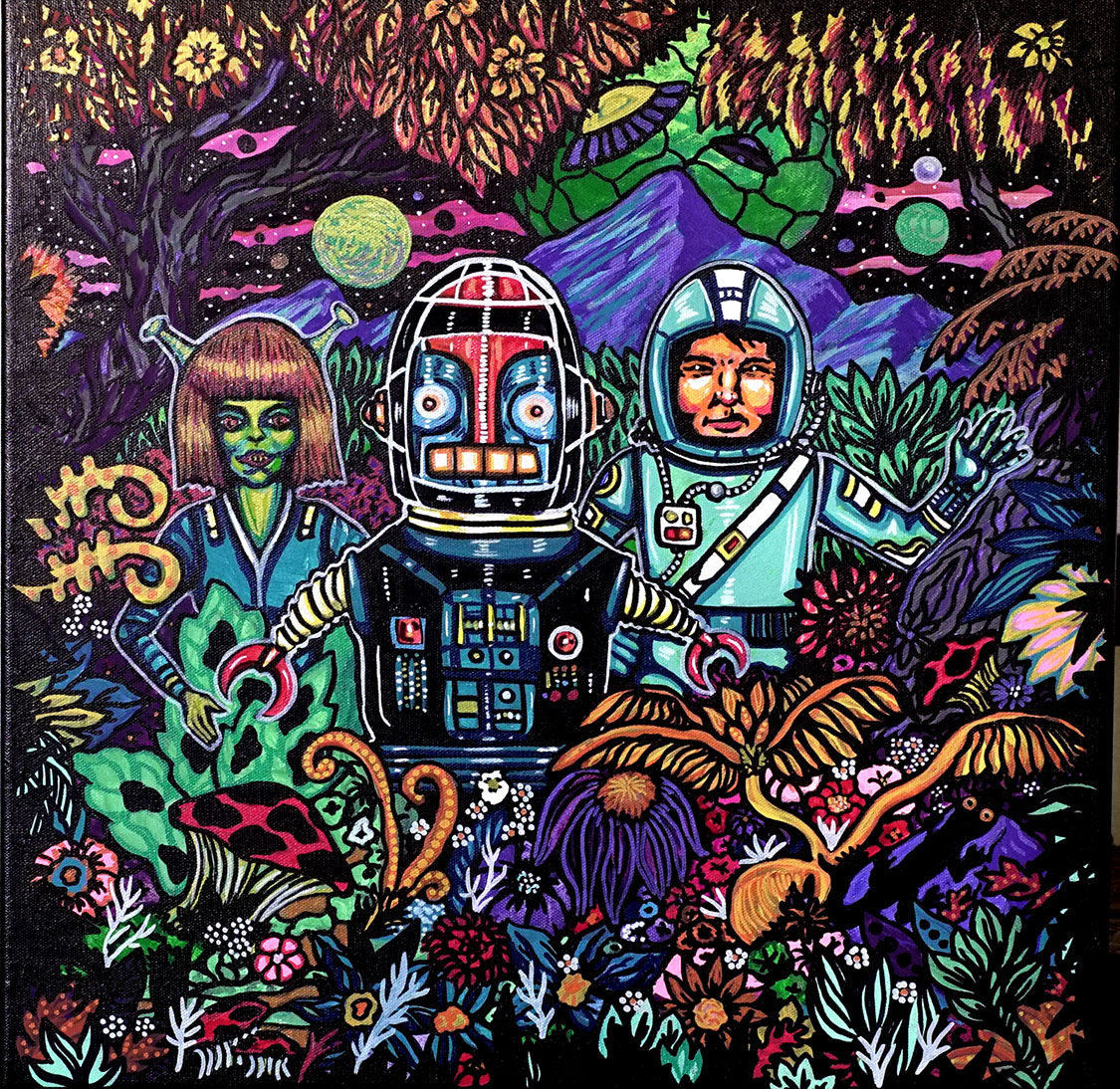 Patrick McGilligan: Robot and Friends
​Iconoclastic, irreverent and yet somehow sympathetic, Patrick McGilligan depicts dreamlike characters rising from the depths of popular culture and his own personal narrative. In fleeting moments of interaction, McGilligan examines tropes of popular culture: flying monkeys, aliens, cyclopes, killer robots and grotesque bodies with helpless facial expressions in concentrated moments of abject despair. McGilligan rejects the notion that this world is one of grace, beauty and simplistic perfection with his portraits, inventing his own garish, surreal pop-mythology.

Inspired by his childhood growing up in the late 1970s, McGilligan references classic monster and horror movies of the day including Japanese and American staples such as Godzilla and the Creature from the Black Lagoon. He uses these icons as an entry point, delving into a futuristic realm of science fiction - exploring an alternate reality inhabited by giant robots in a world where humankind is subjugated and machines are worshipped as the new gods.

​ Patrick McGilligan, also known as "The Lethargic Artist", is a southern California-based artist known for his work on the windows of the Santa Monica VIDIOTS video rental store. McGilligan grew up in Norwalk, California and is a self-taught artist. He has exhibited at Art Share L.A., Coagula Curatorial, MuzeuMM and Keystone Art Space, with shows such as Never Have I Ever, Exquisite Pittoresco, Nude Survey Five, The $99 Painting Show and The PussyCat Challenge. McGilligan has recently published a book called The Lethargic Artist Coloring Book.
---
---