Courageous Kids Climbing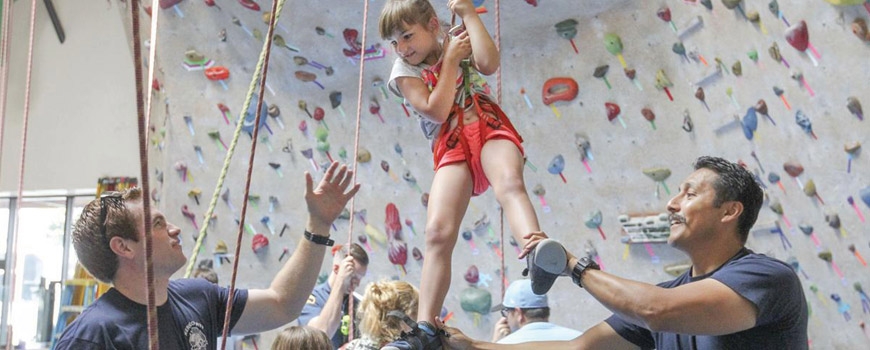 Event Details:
10:00am - 12:00pm | June 24, 2018
@
University of Antelope Valley - Parkview Campus
|
Add Event To My Calendar
Courageous Kids Climbing returns to UAV Parkview Campus on June 24th, 2018.
McCall, Idaho-based Courageous Kids Climbing announced today that they will be partnering with the County of Los Angeles Sheriff's Department search and rescue team to conduct a free event for children with special needs.
Members of the search and rescue team will be setting up their mobile climbing wall at the University of Antelope Valley's Parkview Campus (808 West Avenue J Lancaster, CA 93534) on Sunday, June 24 from 10:00 am until noon to provide 20 children with special needs to challenge themselves by climbing the wall.
Climbing has shown to help children with special needs by helping them to learn how to focus and challenges them with problem-solving opportunities. For the child with physical challenges, utilizing the climbing organizations adaptive climbing harnesses, the climbers will be taken out of their horizontal world and allowed to experience the vertical world.
Courageous Kids Climbing provides free opportunities for children with special needs, physical or developmental, to experience the various forms of rock climbing at events held in Idaho, Washington, and Southern California. The organization also has events planned for Las Vegas, NV (6/17) and Bakersfield, CA (6/23)
In addition to the mobile climbing wall, the Sheriff's Department will have upwards of ten various emergency response vehicles on display for the courageous climbers to check out. Antelope Ambulance has committed an ambulance to the event and the Los Angeles County Fire Department will have a fire apparatus on display.
Courageous Kids Climbing event coordinator Jeff Riechmann said, "As a former resident of Palmdale, I am really excited to be bringing our adaptive climbing program to the Antelope Valley. Every organization that we have reached out to has jumped on board without hesitation. This will be an excellent opportunity for the children of the Antelope Valley with special needs to RISE ABOVE!"
For more information on the event, visit Courageous Kids Climbing on Facebook. To volunteer to help at the event or to sign up your child with special needs, contact Riechmann at jeffriechmann@cs.com.
FOR MORE INFORMATION
Jeff Riechmann
300 Mountain Cove Court
McCall, Idaho 83638-4501
jeffriechmann@cs.com
Admission Details:
808 West Avenue J Lancaster, CA 93534