Lancaster West Rotary Presents: New England Lobster or Steak Dinner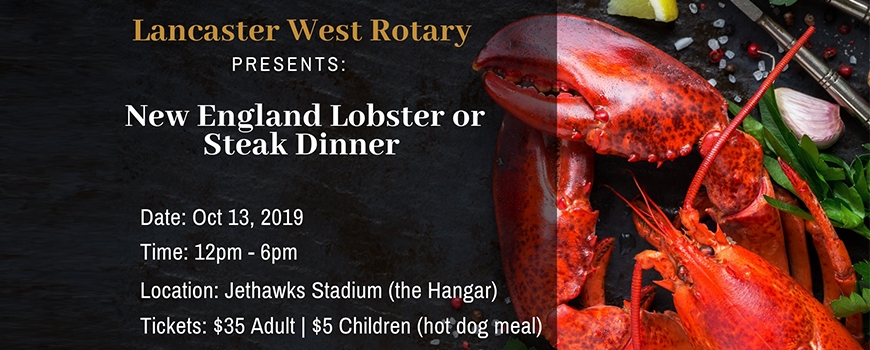 Event Details:
12:00pm - 6:00pm | October 13, 2019
@
45116 Valley Central Way, Lancaster, California 93536
|
Add Event To My Calendar
Looking for something eventful to do for your family and friends locally?

Lancaster West Rotary Presents otheir38th Annual New England Lobster or Steak Dinner on Oct 13, 2019 from 12pm - 6pm at the Jethawks Stadium (the Hangar) with a Corn Hole Exhibition. It's going to be an epic event full of first class food, entertainment, beer and wine, and a great networking opportunity.

Your ticket includes the choice of either a 1 1/2lb live lobster or 16 oz. juicy steak along with close slaw, garlic toast, corn on the cob, and a desert. One complimentary beer, wine, or beverage is included and additional drinks will be available for purchase. Kid's Hot Dog Meals will be available as well.
Admission Details:
Tickets · $5 - $35