Tuesday Trivia at Lucky Luke!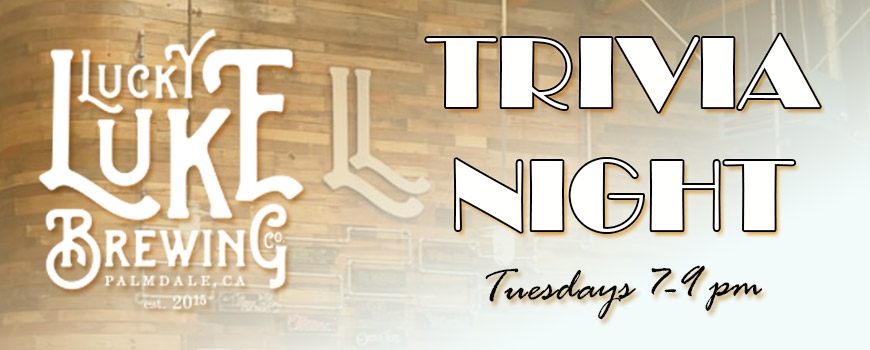 Test your knowledge of random things – categories will vary each week from sports, entertainment, Disney movies, science, World War II, and beyond.
Start a team with your friends and come on over!
Gramma-chele's Kitchen
is onsite nearly every Tuesday serving delicious brain-food, that you'll need!
FAQs:
What the heck is Trivia?!
6 rounds of 10 questions
The categories and questions are random so it's fun for everyone. Each question is worth 1 point.
Before the night starts, see the Quizmaster and ask for an Answer Booklet. You will fill out your Team Name and view the night's categories. At that time you will have the opportunity to double down on 2 of the rounds solely based off the categories of the night. Your double downs must be chosen when you submit your Team name and get an Answer Booklet.
When the round starts, you will fill in your answers to the best of your ab
ility. Be sure you write down your team name on each answer sheet! Submit that round's answers to the Quizmaster. Each team's scores will be tallied after each round so that you know where you stand. There are no penalties for wrong answers.

After each round, there will be a clue given for the "Beer Bonus" Question. With 6 rounds, you will have 6 clues to the answer. However, if you know the answer early, come see Tim! Whoever gets this answer first gets a free round of drinks for their whole team. There is only 1 winning team for this question!

What are the rules?
1. No cell phone usage during the game. Your team will be disqualified for the round if you are caught.
2. No yelling out answers. Everyone is here to have a good time and a know-it-all who gives out the answers is no fun.
3. The Quizmaster is always right.

Team sizes?
Max team size is 6 people! Bring your friends, play alone, or join a team when you arrive.

Does it cost money?
Nope! This is a free event.

What if I'm late?
You can still come and play, but questions/rounds will not be repeated for late comers.

Will the categories and questions change each week?
Yes! That's what makes this so fun. All different categories will be featured – history, sports, the most famous tweets to date – you never know what kind of questions will come up!
Admission Details:
610 W. Avenue O, Ste. 104, Palmdale, CA 93551