Artist Talk & Tour at MOAH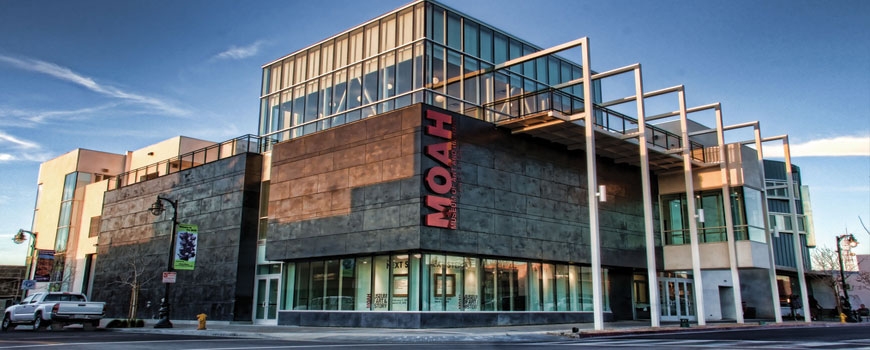 Join Robert Nelson as he leads a walk-through of his exhibition, Awakening on Saturday, September 15 at 1 p.m.
--
The influence of Renaissance master painters is immediately apparent in Robert Nelson's work, seen through his incorporation of faces from the paintings of Raphael or Bronzino, combined with the shape of his paintings which are often reminiscent of Medieval or Renaissance palace windows. Robert Nelson's work mixes the hyper-realistic and the surreal, likewise, his subjects combine the familiar with the unexpected. Nelson's work is about juxtaposition, using images that convey meaning on both an immediate and personal level, images that also seem to require the viewer to find a deeper meaning for themselves behind the themes and ideas that the artist explores.

Robert Nelson's work makes for a peculiar but intriguing union as he combines 16th century Italian Renaissance with modern imagery and concepts of our contemporary, technologically inclined world. He is transfixed by technology and also the compression of time. As the world is engulfed by the likes of computers, robots or other forms of evolved intelligence, Nelson takes a more analog approach to the work and does not use computers. All of his pieces are hand drawn using multiple layers of colored pencil and acrylic then sealed, giving the final product a glossy finish.

Nelson studied Fine Art/Studio Art in college, and later joined the Navy. After retiring from the Navy, he went back to school and attended Platt College in San Diego where he studied graphic design and multimedia design. He worked as a graphic designer for over fifteen years and for the last eight has been working seriously as a fine artist. His works have been included in exhibitions since 2008 in San Diego and Los Angeles. Among the galleries where he has exhibited are The Los Angeles Art Association / Gallery 825, Los Angeles, Southwest College Art Gallery, Chula Vista, Orange Coast College, Costa Mesa, Lora Schlesinger Gallery, Santa Monica.
Admission Details:
665 W Lancaster Blvd, Lancaster, CA 93534