Forest for the Trees Opening Reception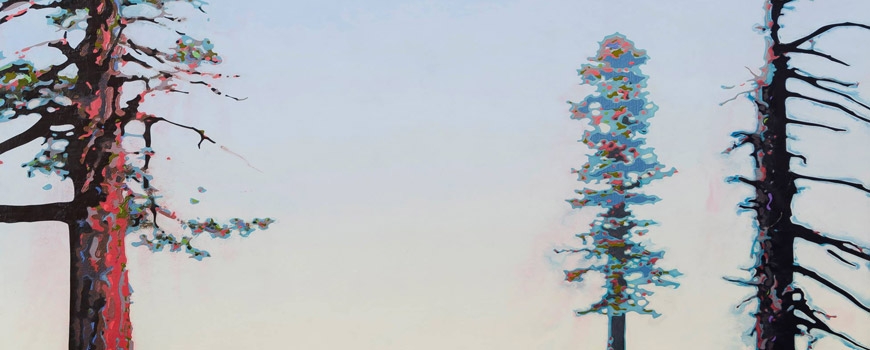 The Lancaster Museum of Art and History (MOAH) is proud to unveil its newest exhibition The Forest for the Trees, which will open with a public reception on Saturday, May 12, from 4 to 6 PM and will run through Sunday, July 15.
The Forest for the Trees is comprised of five exhibitions addressing the complex relationships between people and the living and built environments they inhabit, specifically focusing on humans' symbiotic connection to trees. Featured in the Main Gallery at MOAH is a survey of work documented over the course of eight years by artist Greg Rose. The Forest for the Trees also showcases the solo exhibitions of Sant Khalsa and Constance Mallinson, with site specific installations by artists
Timothy R. Smith and High & Dry, a collaboration between Osceola Refetoff and Christopher Langley.

Each of the artists explore the environment and the impacts, both positive and negative, that humans have upon it. Greg Rose's work documents his, nearly decade long, excursions into the San Gabriel Mountains as he catalogs, analyzes, and paints various trees across the forest. Sant Khalsa's, Prana: Life with Trees, brings together work from her more than forty years as an artist, examining humanity's existence within nature, specifically their connection to trees. Constance Mallinson's work takes a closer look at the massive amounts of material waste that humans generate, magnifying the remains of landfills and garbage "patches" by painting them on oversized canvases. Timothy R. Smith has constructed a site specific installation regarding the built environment that spans two stories an multiple exhibition spaces. High & Dry's dispatches takes a look at humans and their impact on the environment, specifically concerning the Mojave Desert region and what we leave behind as a culture. Joining The Forest for the Trees at MOAH:CEDAR on Saturday, June 16 from 6 to 8 PM is artist Miya Ando. Inspired by her upbringing, Ando's installation will transport visitors to the redwood forests of northern California.

In addition to the regularly scheduled community engagement programs that MOAH, MOAH:CEDAR, and the Western Hotel Museum offer, : this exhibition will include an artist talk with High & Dry Sunday, June 3 at 1pm, artist talks with Timothy Robert Smith and Constance Mallinson on Sunday, June 10 at 1pm, Greg Rose talk June 24 at 1pm and book signing and artist panel discussion with Sant Khalsa on Sunday, July 15 beginning at 1 PM.
Admission Details:
665 W Lancaster Blvd, Lancaster, California 93534