Grand Re-Opening Public Reception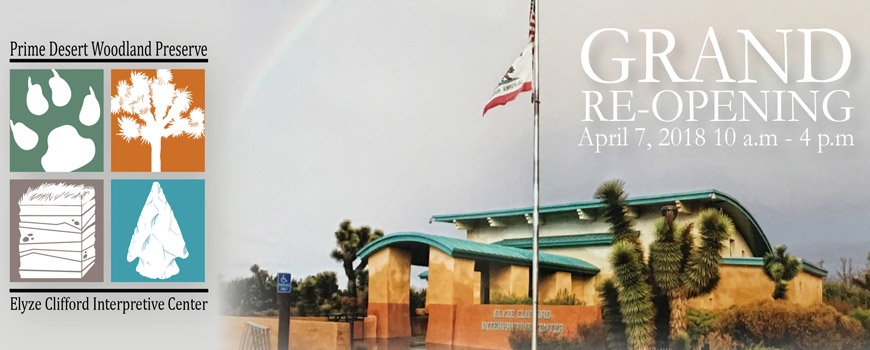 The Elyze Clifford Interpretive Center at the Prime Desert Woodland Preserve is proud to celebrate the opening of a new permanent exhibition on Saturday, April 7 from 10 a.m. to 4 p.m. The interpretive center project, designed by the Lancaster Museum of Art and History, is phase one of a multi-phase improvement initiative in anticipation of the annexation of an additional twenty acres of walking trails, signage and infrastructure to the preserve.
The new exhibition explores each of the major interpretive areas the center has traditionally included such as fauna, flora, geology, native peoples and historical figures while increasing audience engagement in a much more interactive experience. New to the interpre
tive center is a petroglyph and pictograph wall where visitors are invited to make their own pictographs in chalk, an excavation station which includes replica bones, artifacts and actual geodes, an expanded library and reading area for children and adults, regular workshops inspired by the landscape and a reimagined touch table where guests can actually feel real animal hides, horns and antlers.
This opening celebration will include special craft workshops, new interpretive center merchandise, light refreshments and additional entertainment emphasizing the uniqueness of the preserve.

This project has been generously supported by the Lancaster Museum and Public Art Foundation, Signs and Designs, Lancaster Community Services Foundation and the City of Lancaster.
The Preserve consists of an area larger than 120 acres of uninterrupted desert landscape with over three miles of trails. The Elyze Clifford Interpretive Center is open every Wednesday, Saturday and Sunday from 10 a.m. to 4 p.m. and can be reached at (661) 723-6230.
Admission Details:
43201 35th St W, Lancaster, CA 93536