California Poppy Festival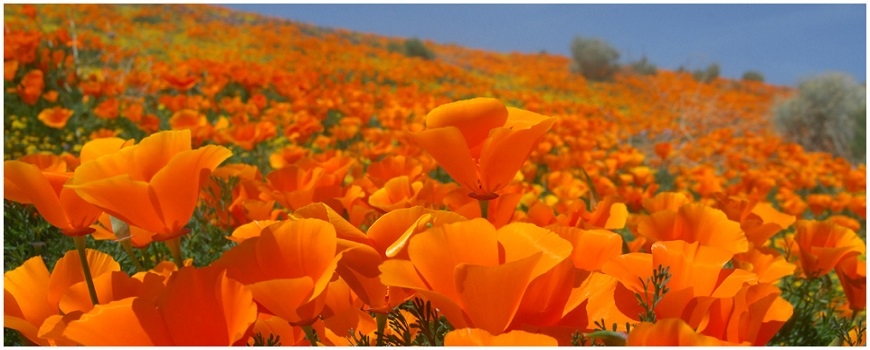 Event Details:
10:00am | April 21, 2018
@
Sgt. Steve Owen Memorial Park (formerly Lancaster City Park)
|
Add Event To My Calendar
The 2018 California Poppy Festival™ is scheduled for April 21-22, 2018. The Festival gates open at 10 a.m. both days, and takes place rain or shine!

Warm breezes replace the winter chill, jubilant laughter fills the air, and poppies burst into bloom blanketing hillsides in a sea of orange. Join us for two days of music, art, food and fun celebrating the state flower of California and the appearance of poppies in the Antelope Valley!

The California Poppy Festival™ kicks off spring in the Antelope Valley with a glorious array of celebrated performers, unrivaled events, and mouth-watering delicacies designed to delight, enchant and amuse people of all ages.
​
Entertainment for Saturday:
Poppy Stage
11 a.m. - KING featuring Mel Booker
1 p.m. - METALSHOP
4 p.m. - World Tour - Legends of Rock

Primrose Stage
10:30 am - A.V. Family YMCA Studio Dancers "At the Ballet"
11:30 am - Lancaster Community Orchestra
12:30 pm - iLead Charter School Dance Troupe
1:30 pm - Dance Evolution
2:30 pm - Dance Evolution
3:30 pm - Cedar Performing Arts
4:30 pm - Cedar Street Theatre
5:20 pm - Holy Renaissance
Adventure Zone - Animal Conservation & Educational Shows
Saturday & Sunday, April 21 & 22

Exotic Animals Rainforest - 11am, 1pm, 3pm, and 5pm
Presented by The Boeing Company - Employee Contribution Fund

Sea Lion Splash - New This Year! - 12pm, 2pm, and 4pm
Admission Details:
Tickets are available onsite during the event, and may be purchased with cash or credit card (at select booths).. ATMs are available onsite. Adults (13-61): $10.00 Children (6-12): $5.00 Children (5 & under): FREE Seniors (62+): $5.00 Active/Retire