101 Dalmatians at Palmdale Amphitheater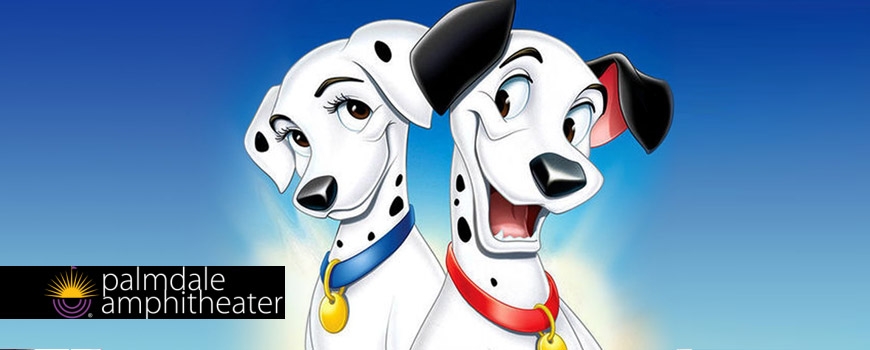 In this animated Disney classic, Dalmatian Pongo is tired of his bachelor-dog life. He spies lovely Perdita and maneuvers his master, Roger, into meeting Perdita's owner, Anita. The owners fall in love and marry, keeping Pongo and Perdita together too. After Perdita gives birth to a litter of 15 puppies, Anita's old school friend Cruella De Vil wants to buy them all. Roger declines her offer, so Cruella hires the Badun brothers to steal them — so she can have a fur coat. Rated G.
Cast: Betty Lou Gerson, Cate Bauer, Frederick Worlock, J. Pat O'Malley, Tom Conway.
FREE FAMILY ACTIVITIES — Come dressed as your favorite character!
Gates open at 6 pm, movies begin at dusk (when it's dark enough to see the movie on the amphitheater screen). Ticket booths open at 5 pm, cash only.
Admission $4, kids 12 & under admitted free; must be accompanied by parent or guardian. Tickets sold on-site only beginning at 5 pm on the day of each movie. Gates open at 6 pm, movies begin at dusk. Bring a lawn chair or blanket.
Food and non-alcoholic factory-sealed beverages are welcome at Family Movie Nights. Snack vendors will be on-site for your convenience. All bags and coolers will be inspected at the gate. Alcohol & pets are not allowed.
Admission Details:
2723 Rancho Vista Boulevard, Palmdale, California 93551